Talent Aquisition Coordinator
Patheon
California City
,
CA
93505
Location :
US - California - Carlsbad
:
Job Description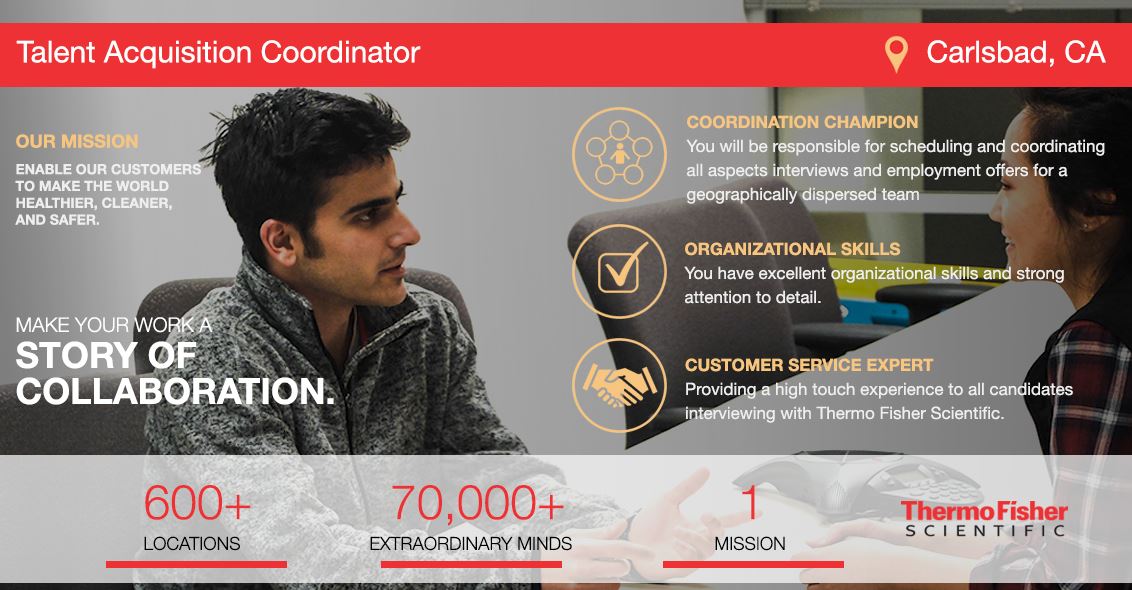 When you're part of the team at Thermo Fisher Scientific, you'll do important work, like helping customers in finding cures for cancer, protecting the environment or making sure our food is safe.
At Thermo Fisher Scientific, our Talent Acquisition team is committed to providing outstanding talent solutions that enable growth and advance our market leader position. We are seeking driven, client focused, and detail oriented Talent Acquisition Coordinators to support our Talent Acquisition Teams drive of robust talent acquisition strategies.
In this critical role you will be a key member of the Talent Acquisition Candidate Care Team, located in Carlsbad, CA. As a Talent Acquisition Coordinator you will play a vital role in the candidate experience as you will be an essential part of the interview and offer process.
What will you do?
Coordinate all aspects of interviews for the Talent Acquisition Team including phone, video and in-person interviews as well as travel if needed.
Track and prioritize requests while monitoring sensitive timelines, deadlines and confidential materials.
Support creation and delivery of offer letters, new hire paperwork and initiation and completion of background checks.
In this role, you will support a geographically dispersed Talent Acquisition Team in a fast paced environment. Our Talent Acquisition Coordinators add value beyond the transactional tasks by working in close partnership with the Talent Acquisition Team to provide a positive interview and offer experience to the high caliber candidates our Talent Acquisition team has identified for roles at Thermo Fisher Scientific
How will you get here?
Bachelor's degree preferred or equivalent experience
1-2 years' experience in HR or TA administrative role or experience in Customer Service/Administrative role preferred years' experience with Bachelor's degree
Knowledge, Skills, Abilities:
Organizational skills
Strong computers skills ( Microsoft Outlook, Google Calendar, Microsoft Office, Applicant tracking systems a plus)
Ability to multitask in fast paced environment
Strong oral and written communication skills
Customer Service
Problem Solving
Ability to be flexible and agile with changes and complex requests
Self-motivated and results oriented
At Thermo Fisher Scientific, each one of our 70,000 extraordinary minds has a unique story to tell. Join us and contribute to our singular mission—enabling our customers to make the world healthier, cleaner and safer.
Categories
Posted:
2019-10-02
Expires:
2019-11-01